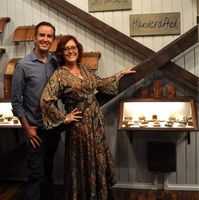 Our Story
Founded in 2013, by husband and wife team; Kevin and Heather (Woodworker & Goldsmith). Their vision was to create a unique artisan company focused on reducing the carbon footprint in the design industry. Heather, is the jewelry designer, and masker goldsmith. Kevin is a visual display artist, and custom designs the business displays and specializing woodworking.
 The team curates and rescues high-quality sustainable materials and turns them into limited edition, hand-numbered pieces of art. All of their jewelry is made from sustainably sourced precious stones, pearls, silver and gold. 
Since the team designs, manufactures, photographs, and sell their products all from the same location, they are able to track the quality and transparency of all their products.
Shop Now
Our Collections
RR Fine Jewelry
At ReSpun Retro we make all of their jewelry in Claremont CA, and sells directly to the customers, so there are no crazy markups or costly import taxes added to the prices you pay.
Each necklace, ring, bracelet, and pair of earrings is produced using ethically sourced and sustainably made 14k gold and precious stones. Each piece in our broad range of the RR Fine Jewelry Collection is one of a kind and is not mass produced, with a diverse selection of styles from everyday basics like hoops and pearl studs to more unique pieces in an Art Deco and Art Nouveau inspired setting. We offer a verity of diamonds (including ethically made diamonds), sapphires, emeralds, rubies, opals, pearls and semiprecious gemstones. 
Shop Collection Now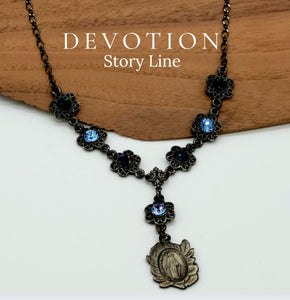 Devotion Line
Historic. Timeless. Empowering. Meaningful.
the centerpiece of our devotion line is our precious heirlooms of faith. All of our devotion lines feature authentic European antique amulets, medallions, and spiritual tokens. These beautiful pieces of art are all adorned with hand-strung semi-precious stones, faceted French crystals, and freshwater pearls. These collections reflect the global history of these timeless symbols of faith and devotion. Create a personal statement, wear alone, or layer these works of art.
Shop Collection Now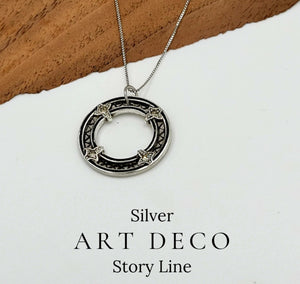 Silver Art Deco Jewelry Line

A celebration of glamour and architecture with a touch of modernity. Using Art Deco era jewelry techniques this line features intricate and ornate silversmithing with natural gemstones and semi-precious stones. With pristine handcrafted quality these pieces are elegant and timeless. 
Shop Collection Now
From vintage style, combined with modern-day concepts. 
With unparalleled quality and craftsmanship. Our designs represent the convergence of jewelry and art. Since we only make one of each piece your design will be like no other. Select from every day or special occasion from our minimal, modern, bold and delicate styles. When it comes to collecting new pieces or giving great gifts our lines are elegant, chic and timeless.